10 Best Nursing Schools in the United States
A career in medicine is a way to become a valuable part of your local community and society as a whole. Many options for employment and personal satisfaction exist in the field of medicine. There are many different areas of medicine through which people can contribute to the area of healthcare and medicine without needing to invest numerous years in med school to become a physician. Nursing is a medical occupation that is lucrative and highly fulfilling. Currently, there is a demand to attend the best nursing schools to get the top nursing degree available.
Some people think these kinds of jobs do not require any education, and that you can begin working in this career with very little on-the-job training. However, when we are talking about working on other people, one must be knowledgeable about how the human body works and procedures to be followed. Nursing degrees provide the necessary background and skill set to enter this specialized field and be ready to take on the job competently. These programs offer nursing courses that cover biology, anatomy, physiology, and an understanding of medical equipment and devices you will use on a daily basis. Below are the top 10 nursing schools in the United States:
1. Johns Hopkins University
Located in Baltimore, MD, Johns Hopkins is known for its School of Nursing and the Bloomberg School of Public Health - both renowned for providing the best nursing courses in the country. Ranked #1 in the nation, Hopkins is considered one of the preeminent nursing schools. It is one of the top recipients of funding for research from the NIH, receiving approximately $7 million in funding each year. Baltimore is a vibrant and artsy city with plenty of attractions and sites like the National Aquarium and the Baltimore Waterfront.
2. University of Pennsylvania
University of Pennsylvania's School of Nursing, located in Philadelphia, is best known for its graduate and pediatric nursing programs. They were ranked number one in the country in master's education in fields such as medical/surgical nursing, anesthesia, and midwifery. They offer numerous programs from bachelor's to a Ph.D. in Nursing. Located in the historic city of Philadelphia, this school is surrounded by restaurants, museums, clubs, and theaters. As an Ivy League school, Penn School of Nursing holds its place firmly on this list.
3. University of Washington
Considered a public Ivy institution, the University of Washington School of Nursing in Seattle is known for providing excellent education in both general nursing and midwifery. The university's research budget is one of the highest in the United States. Hundreds of students flock here every year to enroll in their nursing programs. In addition to nursing, there are programs for public health, Physician assistant, pharmacy, occupational therapy, and so on. Graduates from this school are highly sought-after and make good money. Seattle is a city that promotes outdoor living, and exploration of the natural surroundings of Washington State. Hiking, biking, fishing, and kayaking are all very popular pastimes in this beautiful area.
4. University of California - San Francisco
The graduate program for nursing in the University of California system is located in San Francisco and is one of the best in the country. Focusing solely on health and biomedical sciences, the School of Nursing is in Parnassus along with the schools of dentistry, medicine, pharmacy, and biomedical sciences. The university is best known for its innovative medical research, public service, and patient care. Nursing specialties include nurse practitioner, psychiatric/mental health, and gerontology/geriatrics. San Francisco is a diverse and dynamic city with the famous trolley system and amazing places to visit like Fisherman's Wharf, Chinatown, Union Square, and Nob Hill. Explore the Golden Gate Park and see the famous bridge in person while exploring this highly acclaimed school.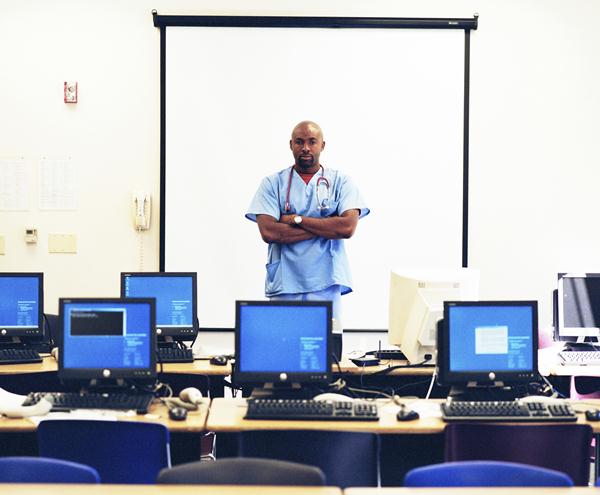 Source: Thinkstock/Ablestock.com
5. University of North Carolina
University of North Carolina School of Nursing and Public Health is recognized for the exceptional education they provide in the Chapel Hill area of North Carolina. Consistently ranked in the top 10, they offer degrees from bachelor's to Ph.D. Ranked #4 overall in 2012, they specialize in psychiatric/mental health, clinical nurse specialist, nursing service administration, pediatric nurse practitioner, and family nurse practitioner. Located in picturesque Chapel Hill, local sites include the planetarium, botanical gardens, theaters, art museums, and of course, golf courses. Southern cooking abounds, and the historic district offers antiquing and historic home tours.
6. Georgia State University
The most notable university of the state, nursing school in Georgia State University offers two types of nursing programs to its students. Students who have completed the core curriculum of the university are welcome to join the fast-paced program that is exclusive to full-time students. You can also join the traditional nursing program if you want to learn nursing like all the other students at a normal pace.
7. University of West Georgia
The University of West Georgia is known for their five-star nursing schools. The nursing school here provide various kinds of learning schedules and a diverse selection of nursing courses to help students learn at their preferred pace.They can study nursing whether full-time or part-time here, and there is also a working schedule that will let you continue studying until you finish your master's degree. University of West Georgia's nursing school is one of the most respectable nursing schools in Georgia.
8. Emory University
As one of the country's leading research institutes, it is hard not to include Emory University in this list. They have four types of bachelor's degrees, thirteen types of master's degrees, and a single kind of Ph.D. program at the school of nursing alone. The school is named after the first woman inside the administration committee of Emory Hospital.
9. Newman University
Located in Wichita, Kansas, this famous university offers a variety of healthcare programs such as bachelor of science in Sonography, and students are provided with a very dynamic and extensive training program. Each student is given the opportunity to learn about all the areas of sonography, and then it is up to them to pick a specialization. All students are qualified to take the examination under the American Registry of Diagnostic Medical Sonographers. The university provides proper mentors and supervising physicians to oversee the work of the students at all times.
10. Tucson College
Tucson College in Arizona maintains modern facilities, the newest instructional materials, and faculty members have broad academic and vocational backgrounds. The College offers nursing courses for certified nursing assistants and provides its students with a high-quality education, which prepares them for successful employment in the field of nursing.
Besides these schools, you also have the option to complete a nursing degree online at an institution like California College of Health Sciences, which offers comprehensive online nursing courses for both bachelor's and master's degree programs in nursing. An education in nursing from a top ranked university or college can speed up your career and make it easier to obtain a well-paying position in the city of your choice. Just try to get a hands-on feel for the college before you say yes. Any of the universities mentioned in this article provide a top-notch education and will open doors to a prestigious and satisfactory career in nursing.
Sourced: nursingschoolhub
Feature Image Source: Thinkstock/EHStock